ChinaBio® maintains a team of researchers in Shanghai, performing primary and secondary research on a variety of subjects of interest to companies in the life science industry:
Therapeutics, diagnostics and medical devices
Novel technology development in China
Government funding activity
Clinical trial activity in China
VC investment in life science companies
M&A/IPO activity
Partnering/collaboration deals
Some of our key findings from our 2010 data include:
VC investment in China life science exceeded $1B US for first time, up 3-fold from 2009
Record year for IPOs with 33 offerings raising nearly $6B US
M&A activity up 7-fold by dollar volume to $3.4B; average deal size up 3-fold to $70M, with several $100M+ deals
Number of NME patents has increased 45% CAGR since 2000; now 3,200 NMEs patented in China
These and other proprietary data devloped by ChinaBio® give us unique insights into China life science industry, and is used to build our proprietary databases and to support our consulting activities (see Consulting).
Please contact us if you would like more information on the state of China life science.


Clinical trials in Asia: Opening up to the world
>> View the webinar
Opportunities and Challenges in Emerging Markets
>> View the webinar


Bettering China's biosimilars
>> Download the article
China's bottleneck
>> Download the article
>> BioCentury News


Life sciences venture capital in emerging markets
>> Download the article



Good Fortune
>> Download the article



What's Driving China's Biopharmaceutical Boom?
>> View the article

"Mr. Bio in China"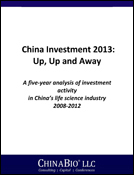 >>China Investment 2013: Up, Up and Away

More white papers:

>>China Partnering 2012: Driving Future Innovation
ChinaBio® Partnering Forum 2013
Beijing, China
May 29-30, 2013
China Medical Affairs Summit
Shanghai, China
June 18-19, 2013
ChinaTrials 6: Global Clinical Development Summit
Beijing, China
November 13-15, 2013